German classes online and face to face
You need to learn German or to improve your language skills for your job? You are planning to move to Germany, Austria or Switzerland and still don´t feel confident about your German level? Or are you just interested in German culture? 
In any case, with Deutsch Coach you´ll see that learning German maybe difficult but not impossible. We offer you a wide range of language solutions: Online classes or face to face lessons if you live in Madrid. Free exercise downloads and reading material. Personal supervision and advice about your progress and the next steps to take.
Skype, Zoom, Whatsapp, Facebook Messenger - you will see that online classes are as efficient and entertaining as face to face lessons.
Texts, books and exercises for students and teachers
Entertaining and yet didactical teaching materials are just as essential for learning a foreign language as they are for the design of classes. Therefore, our wide range of educational material appeals to both German learners and German teachers. On our website and in our webstore you have the choice from a variety of books, texts and exercises - some of them completely free.
We work hard to make the above sections grow continuously. We hope, you'll find what you are looking for.
NOW AVAILABLE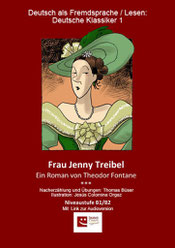 At last you can buy our new ebook. Theodor Fontane's "Frau Jenny Treibel". First part from our series "Deutsche Klassiker".
Re-written, simplified, modernized. Very useful for teaching German as a foreing language or for reading at home. With comments, exercises, illustrations and audio-link.
Level: B1/B2.
Now on sale on Amazon!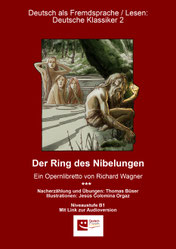 Second part in our series of German classics. "Der Ring des Nibelungen", based on Richard Wagner´s famous opera. And as always re-written, simplified, modernized. With comments, exercises, illustrations and audio-link. Get it and start improving your German by reading and listening!
Level: B1.
Now on sale on Amazon!